The James Heavy Duty Subsoiler is designed to lift and shatter pan layers in the subsoil at a depth of 50cm. This shattering permits the filtering of surface water down through the profile avoiding ponding and allowing moisture to be stored for use during dry periods.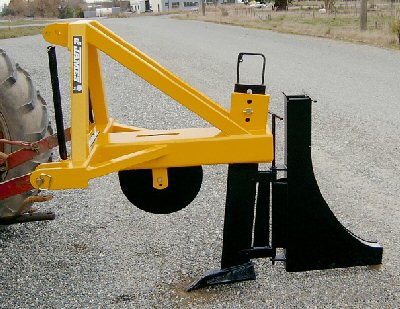 Features
Designed for tractors up to 100hp
Shatters to a depth of 50cm
Main beam – Twin 127x51x6mm RHS
16mm High Tensile blade
Replaceable ripper tine point. (Pinned on.)
Shear Bolt Protection
Delta type wings for maximum shatter.
Large 18″ diameter skieth leaves clean surface cut.
Skieth cuts surface trash avoiding blade build-up.
Special subsoilers and pipe chutes manufactured on request.
Option: Pivoted sliding back chute for laying alkathene pipe up to 50mm diameter.
Tree Planting
Use of subsoilers for ground preparation prior to tree planting provides shattered subsoil which enhances the development of strong deep root structures and the establishment of more robust trees.